How Much does it cost to live in a room, apartment, house, or condo in Pattaya?
If you have visited this great city, I'm sure this thought has surely crossed your mind. Living in Thailand can be a comfortable reality, in a room, apartment, house, or condo, there are a variety of housing options tailored to meet a variety of budgets and lifestyles. When in Rome do like the Romans, can that be paraphrased and still be true?
When in Thailand do as the Thais,
let's just look at how the Nationals of Thailand supply their own Housing needs, while we consider being an Ex-Patriot living in Pattaya. The Minimum wage for the National workers of Thailand is 305 THB per day that's 7,320 THB per month you earn when you work at a 7/11, six days a week. They usually live in modest housing, priced at 2000 baht per month or less when earning that wage. These rooms are small studio apartments about 15 – 20 square meters with a shower room. If the average Thai uses 25% of his income for rent let's use this level to gauge other forms of housing.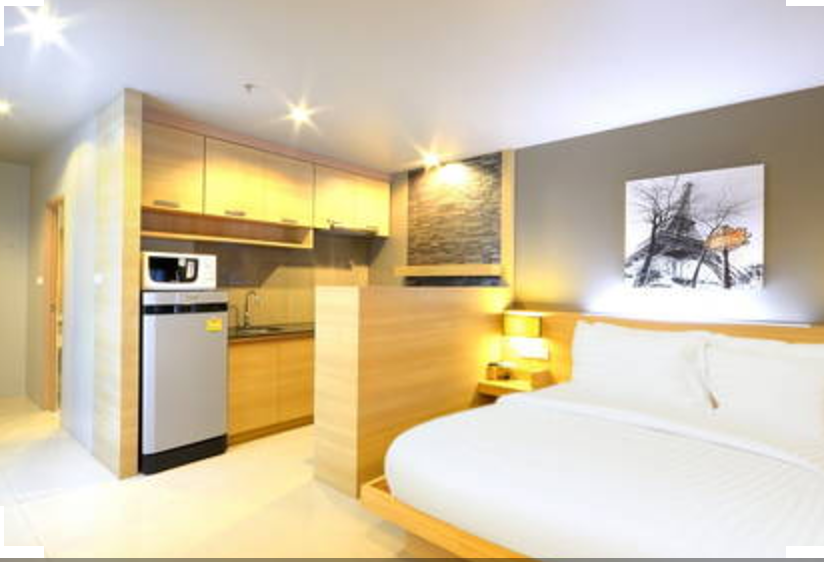 If you're willing to use 25% of your holiday budget or monthly income for housing, what does that get you in Pattaya on a monthly basis when looking around for a room, apartment, house, or condo. After living here for more than 10 years my answer to that is, Extremely Adequate and Extensive Housing options according to your budget.
The housing options available to you in Pattaya are really great. Whether you're looking for a room, apartment, house, or condo, there are some very attractive places that are available to rent or buy at great prices. One only needs to know where to look and who to call. Here are a couple of listings I just took screenshots of, advertising on Google. This can give you an idea of the quality and pricing of the different units available for you to live in Pattaya. The exchange rate at the time of my writing was 1 US Dollar exchanged at 34.09 Baht, and 1000 Baht exchanged at 29.33 US Dollars.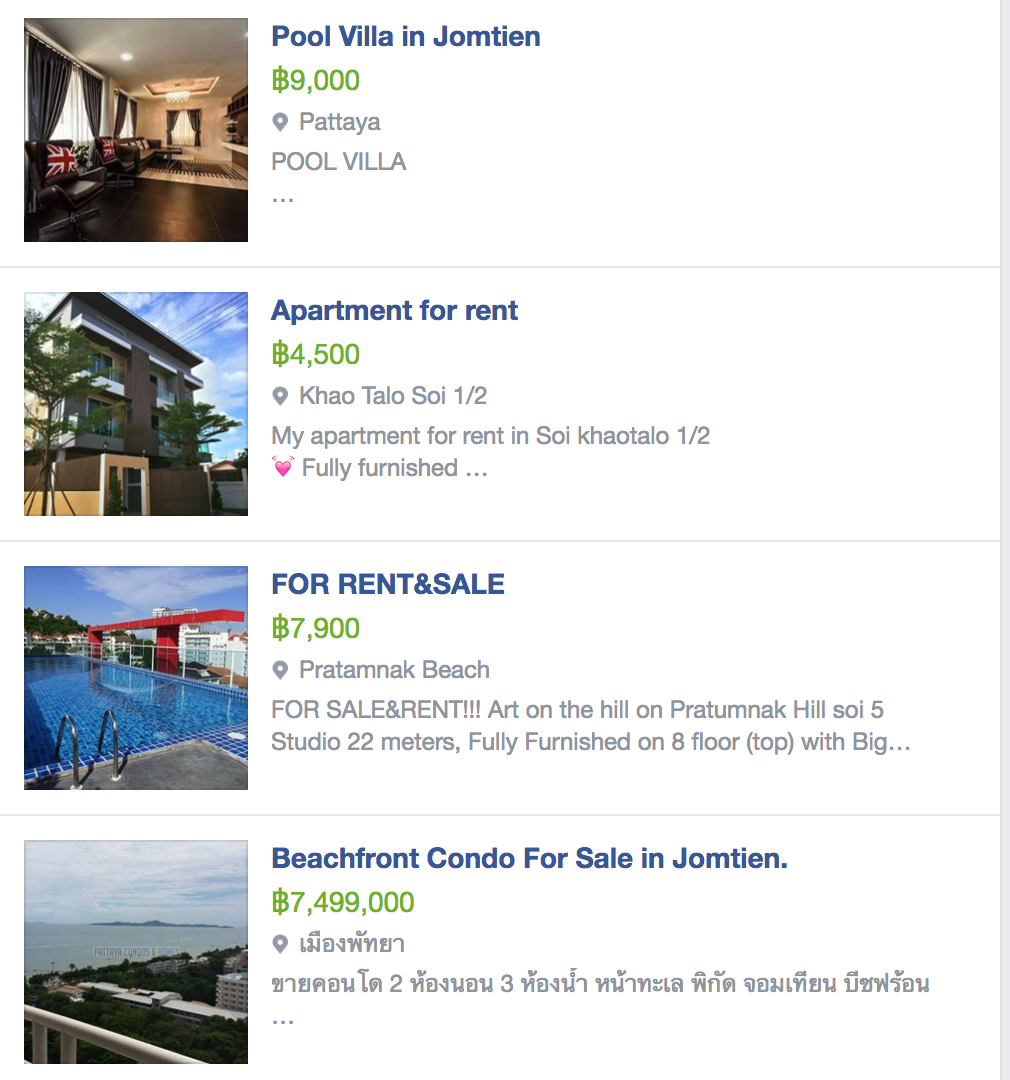 https://www.facebook.com/groups/PattayaCondosForSaleOrRent/forsaleposts/
Being somewhat familiar with Pattaya helps a lot
when looking for a room, apartment, house, or condo in Pattaya. Southern Pattaya(Pattaya Thai) is near Walking Street, the closer you are to Walking Street the closer you are to the noise of that environment. Central Pattaya(Pattaya Klang) is near Sois 6,7, and 8 a little less noisy and still close enough to the party scene. North Pattaya(Pattaya Nua & Naklua) has less nightLife than Central Pattaya and is being built up into something I would compare to as a suburban part of a big city. The modern exteriors and interiors of the massage parlors, spas, and restaurants make this area quite friendly to evening strolls and therapeutic adventures at the spas.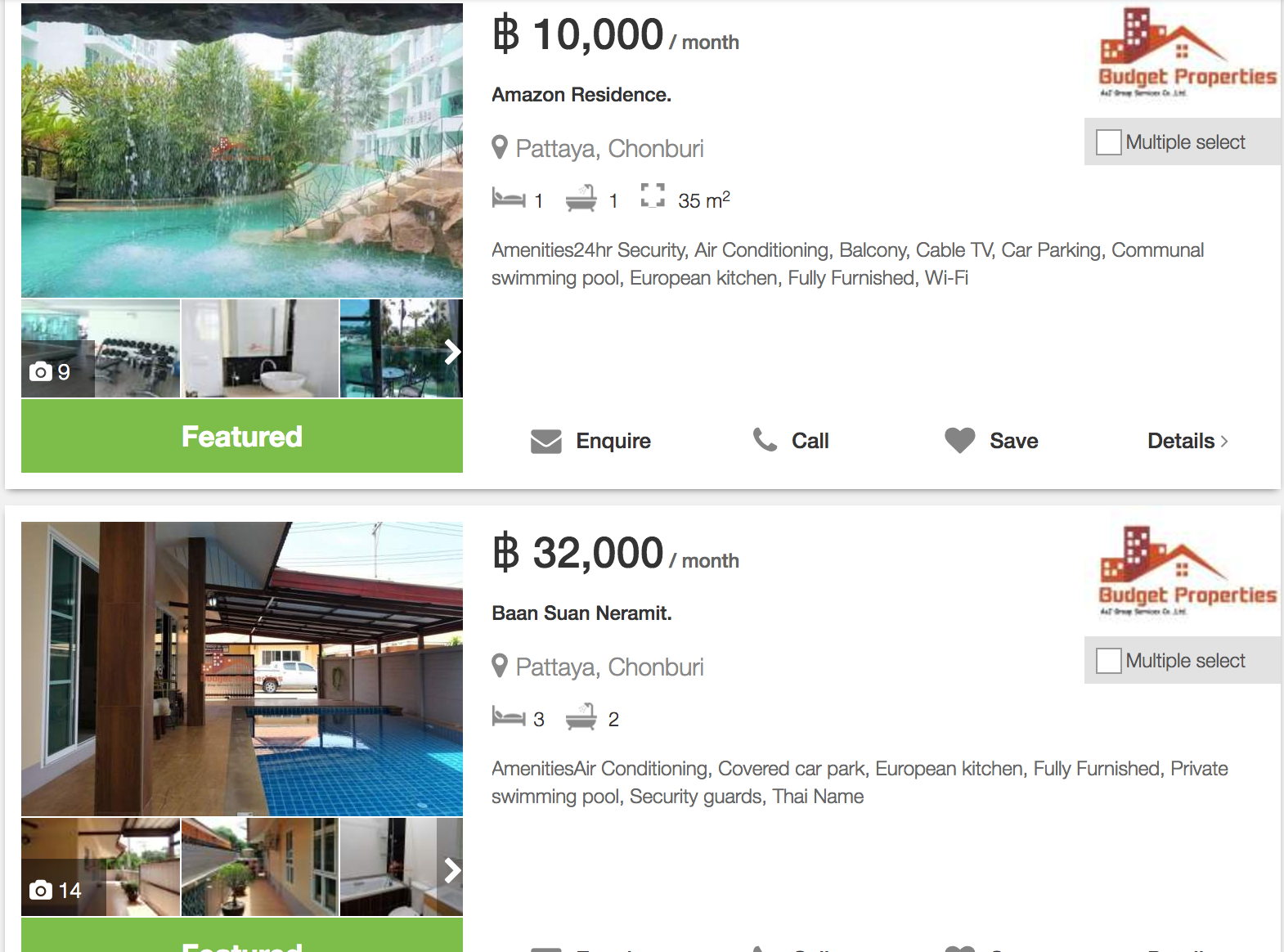 https://www.thailand-property.com/properties-for-rent
For those of you that can see the development of Pattaya And you want to lock in that Phat Ass Crib with the swimming pool outside of your living room on the 32nd floor. That's available now!! Before it's too late!! If you're scared of heights there are homes with indoor pools at the ground floor of your 3 story triplex, fully furnished. Sign up to our newsletter and get on the inside track to all the exclusive property listings available, for you to live in Pattaya. Just here on Holiday? I always suggest serviced apartments to rent they're so much larger than a standard hotel room and always a lot more comfortable for the same price. For more information just sign up!!
Please follow and like us: