When you're in an exotic country that just oozes with sensuality,
and to top it off you're with someone whose  company you thoroughly enjoy. If that exotic place is Thailand, it's a must to take advantage of its picturesque, romantic places. When traveling to Thailand for a holiday the plane usually lands in Bangkok. You may decide to enjoy some time in Bangkok or Pattaya to take part of the exciting nightlife. If you find or come with someone that makes your heart skip a beat when you hold them near. There will come a time to leave the party scene and go on some romantic getaways. So you can be consumed with romantic intentions inspired by one of the most sensual and exotic places on the planet, Krabi (kra-bee) island.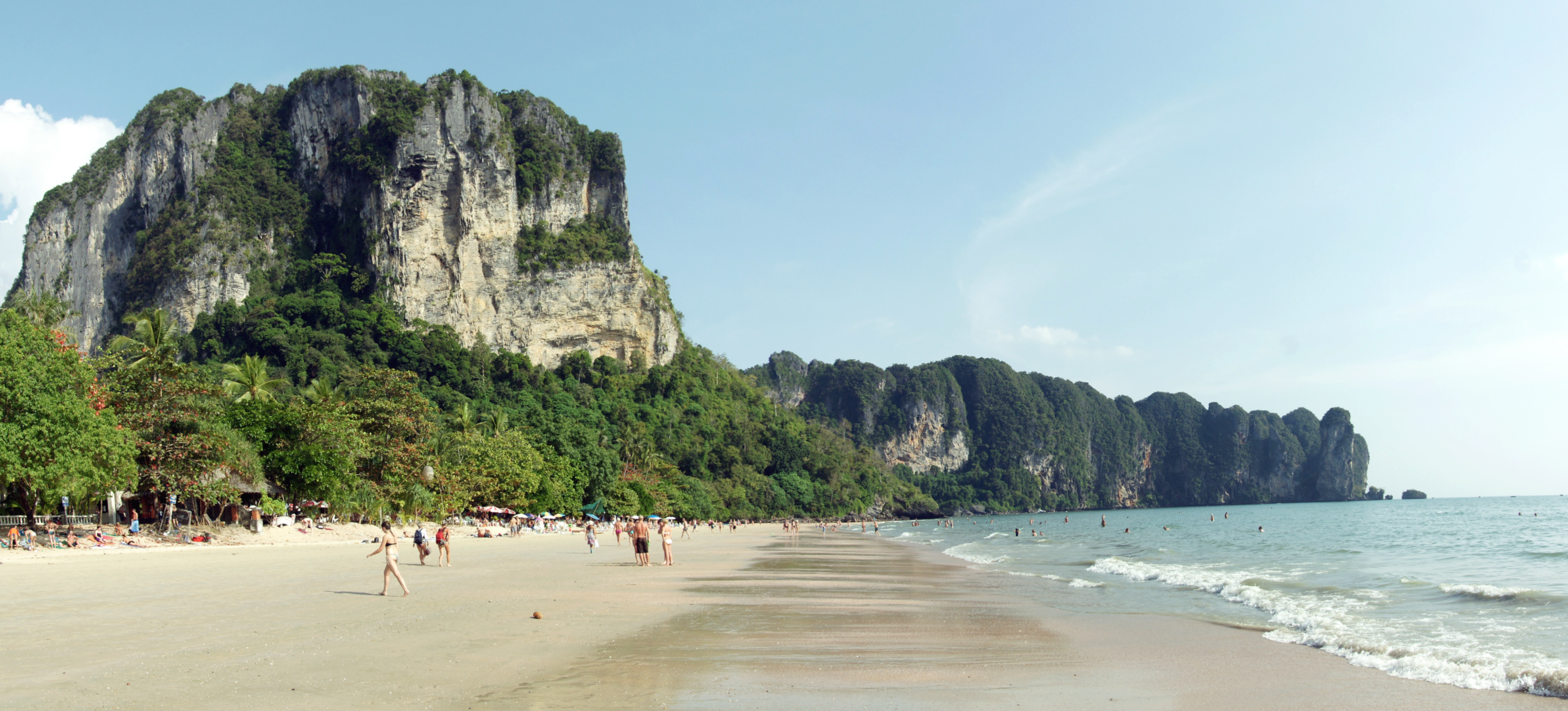 Ao Nang beach
You can set up base camp at Ao Nang a vibrant beach town, and enjoy the local beach and the fresh seafood at a variety of restaurants. After you're all settled in you can plan romantic getaways to two beaches on that island voted as the two best in Thailand, Railay Beach, Phra Nang Beach and Phra Nang Cave. These two locations are very near to each other and can be enjoyed in one day. Afterwards you will know which beach you prefer to spend the most time on.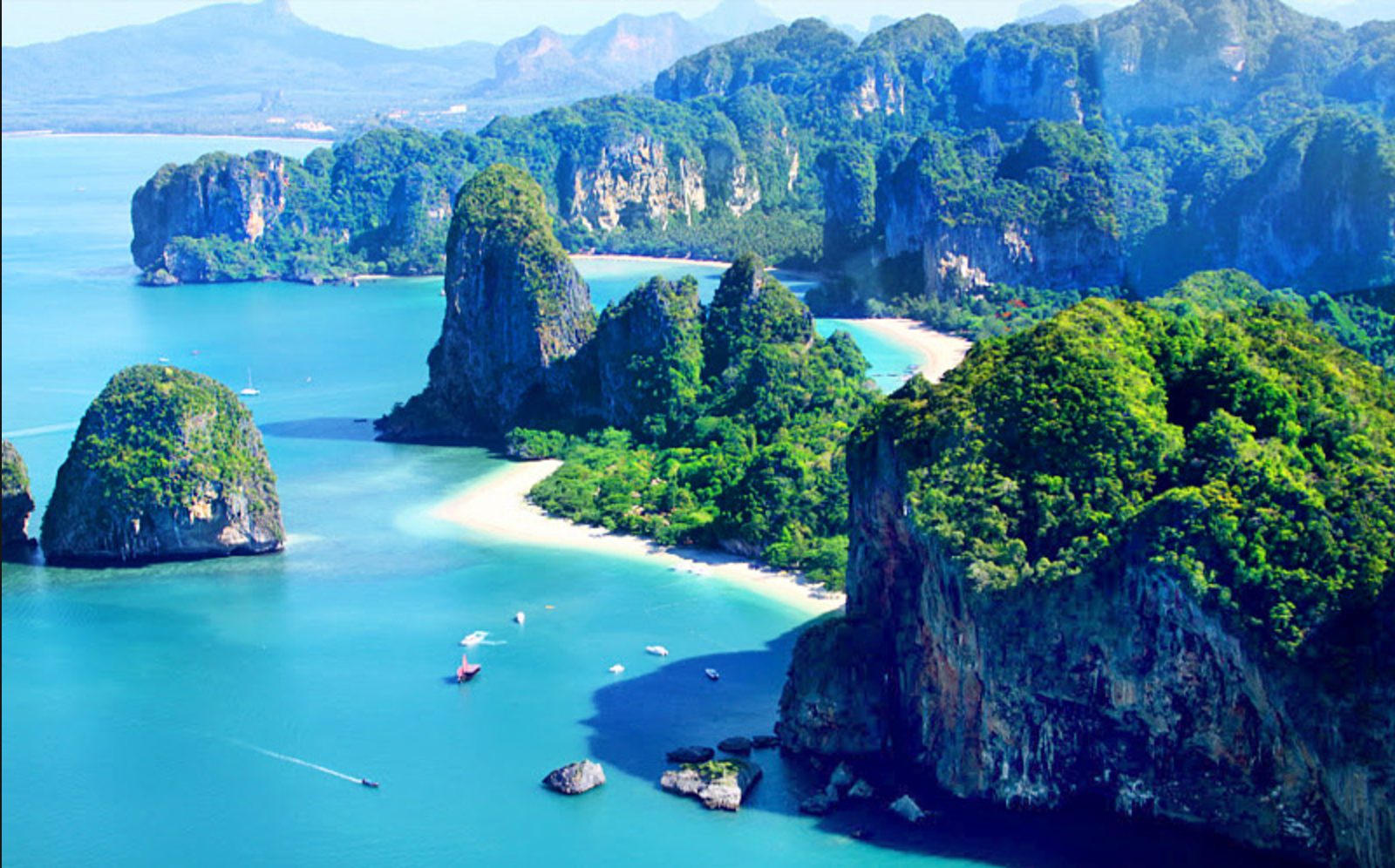 Railay Beach / Phra Nang Beach
Phra Nang cave is actually located on Railay Beach, but the locals have given that area a different name. As You can see from the photos, it doesn't get much better, These are truly breathtakingly beautiful places on our planet.

Railay Beach / Phra Nang Beach
A few words of serious advice to prevent you from ruining your romantic getaways,
when you go out to eat lobsters only eat the lobsters alive in a tank. Do not, I have to repeat this with more emphasis, DO NOT EAT LOBSTERS IN THE SHELL THAT ARE BEING KEPT ON ICE ALREADY DEAD. Eating lobsters kept on ice may result in you experiencing food poisoning. Food poisoning will take all the romance out of your romantic getaways. The tiger prawns out of the shell, the small rock lobsters, shrimp, and mussels do ok on ice but lobsters in the shell on ice attract more bacteria. So just keep that in mind, try your best to eat seafood thats alive when you select it for your meal as you go around enjoying the restaurants in town and throughout Thailand.
The beaches to visit next are near to Patong, Phuket, Nai Harn Beach and Phi Phi Islands. I think it may be best to find find a place near to or in Patong, a city Full of nightlife for you to enjoy after your fun in the sun, sand, and surf. Nai Harn Beach is approximately 30 km from Patong. Once you know the way you can rent a motorbike and take yourself to this pristine beach at your own convenience, adding more privacy to your romantic getaways.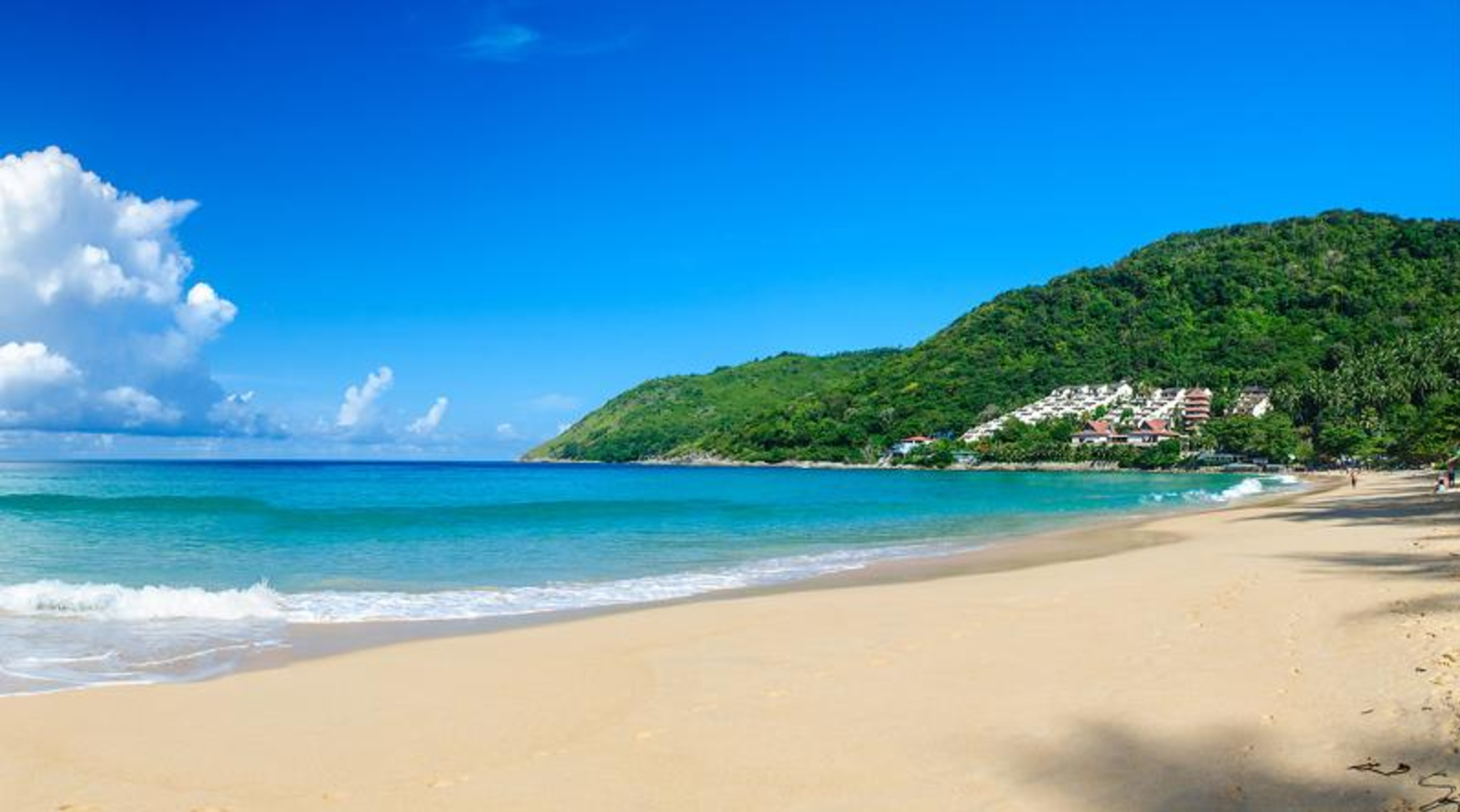 Nai Harn Beach
Going to Phi Phi is an all day adventure start your day around 8 or 9 am to really get the most out of this awesome body of water.

If you're a fan of James Bond 007 movies you will recognize this landmark immediately.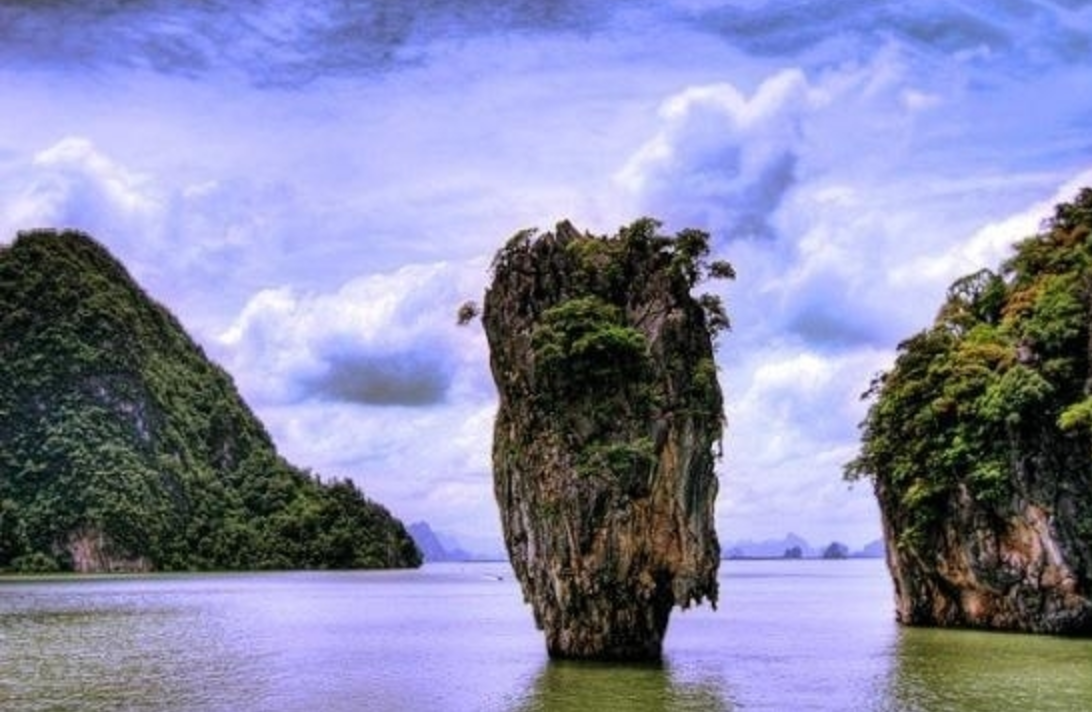 James Bond Island
This Place has been given the name James Bond Island, the actual location and filming of scenes from "The Man With The Golden Gun."
There are other great beaches in Thailand that I will list, but what I don't want to see, is anyone planning a power vacation. We do that sometimes from the far side of the Atlantic, trying to visit all these places over a short period of time, missing out on the relaxation, and always stressing about getting to the next destination. Thus defeating the whole purpose of romantic getaways.  The logistics of traveling to these remote locations in the various areas of Thailand can take up a lot of your vacation time. So maybe just planning on visiting one or two of these beaches may be enough for one holiday.
Koh Nang Yuan another beach in southern Thailand is world famous for the marine life surrounding the island. This island is one of the premier diving locations in the world.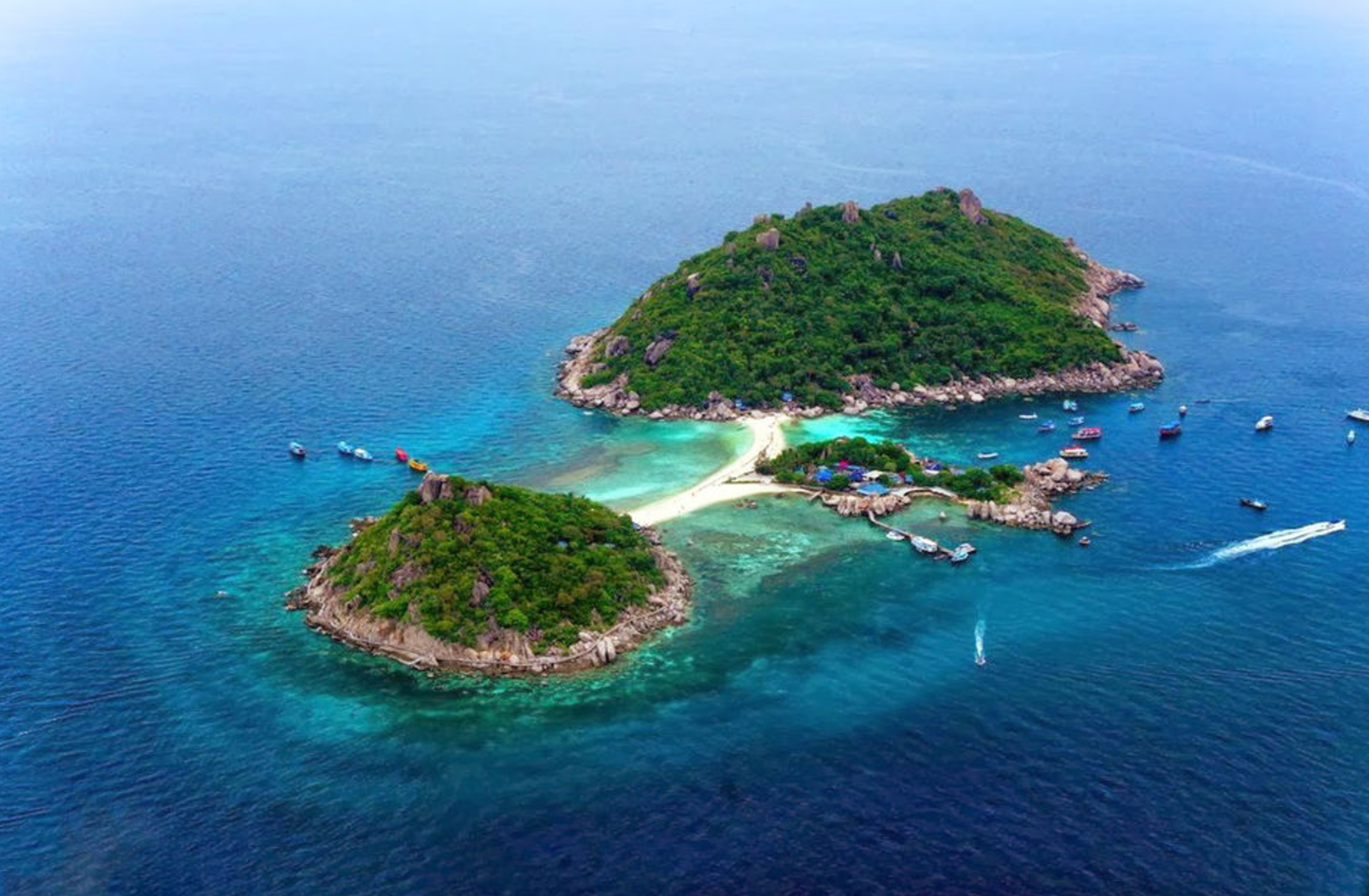 Koh Nang Yuan
Koh Lipe Near the Malaysian border is another area in the southern part of Thailand with an absolutely lovely beach.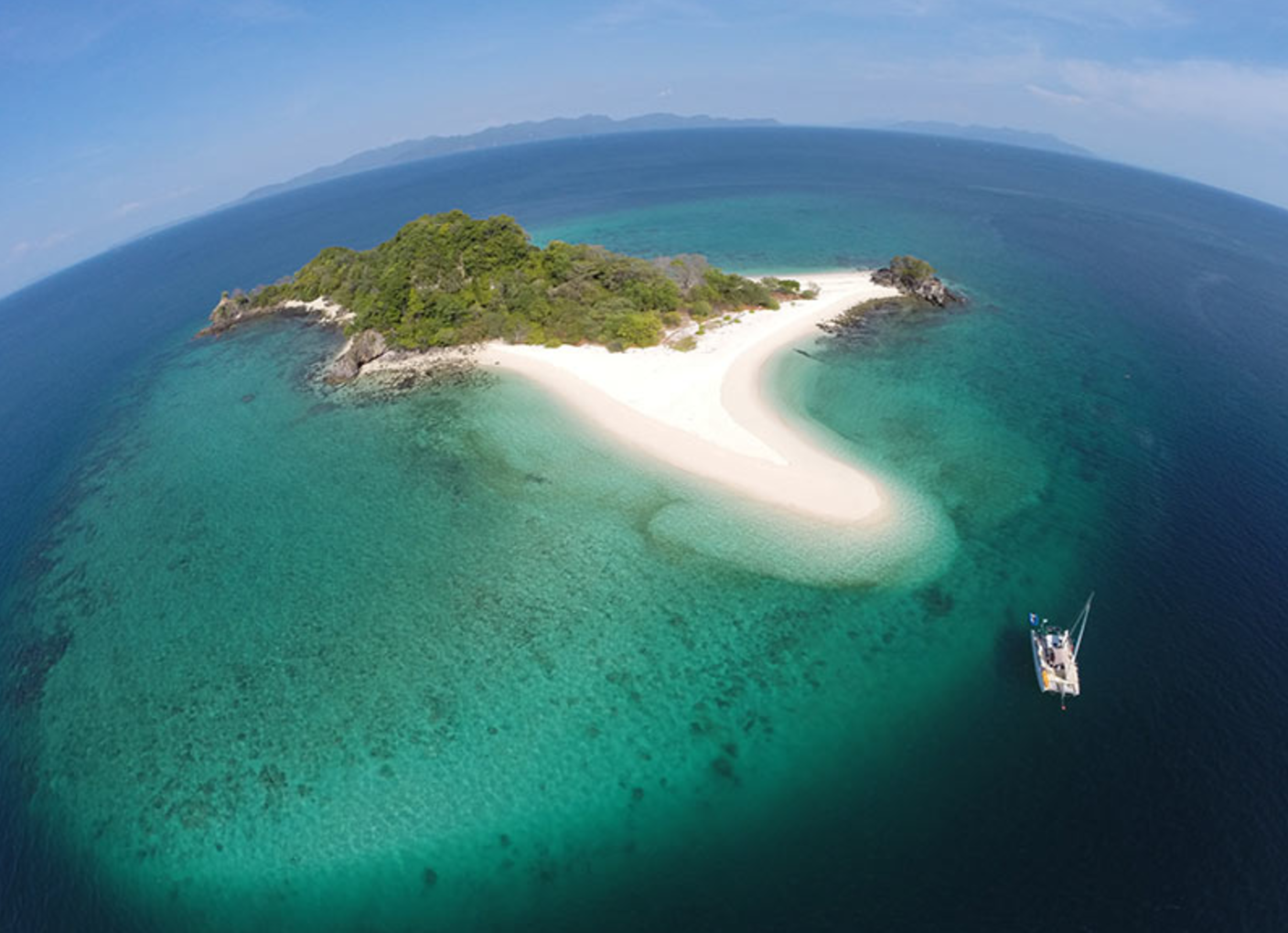 Koh LIpe
Laem Tong Beach on another coast of Phi Phi island has a constant breeze, making it an excellent location for windsurfing.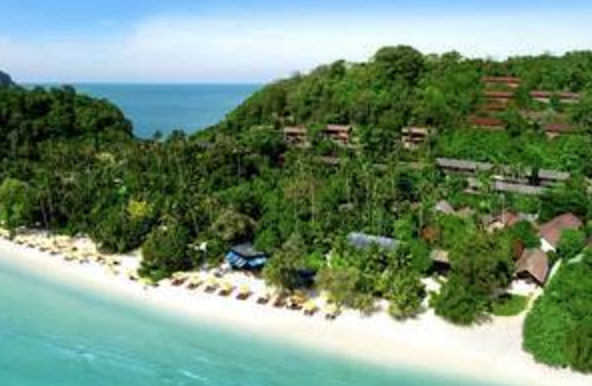 Laem Tong Beach
Thongtakian Beach on the coast of the island Koh Samui, offers the adventurer romanticist white soft sand and clear turquoise water full of fish to see when you dive & snorkel.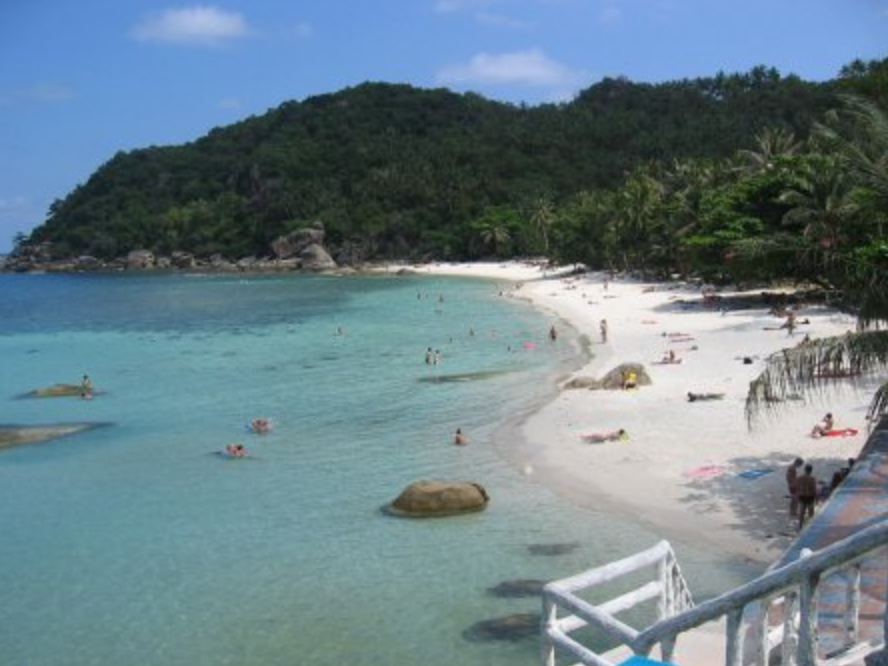 Thongtakian Beach
Anytime you can find your way to the shores of the Gulf of Thailand and the Andaman Sea, away from the big cities. You will find a nice beach, where you can relax, enjoy nature, and create romantic getaways. Here are some more great beaches to go to, Koh Chang, Koh Lanta, Ko Yao Noi, and Hua Hin Beach.
When you get the chance to vacation in Thailand take your time, there is so much to see and do. Enjoy your time on these white sandy beaches with someone special and let the magic happen.
Please follow and like us: