Kombucha is the drink everyone around the world is talking about, mostly because of the health benefits associated with it. What exactly is Kombucha and how does it benefit your health, and if you want some while you're in Thailand how do you get it? If you're one of those that never heard of Kombucha or of its health benefits, let me explain to you exactly what this ancient brew is. Kombucha is a fermented tea drink. It is lightly effervescent and brewed with sweetened green or black tea as its base ingredient. Other flavors from fruit juices or spices can be added to the brew to produce a variety of Kombucha flavors and extended health benefits. This variety of flavors combined with its reported health benefits has made Kombucha very popular among the health conscious and the the trend setters. The brew is fermented with a "symbiotic 'colony' of bacteria and yeast" (SCOBY).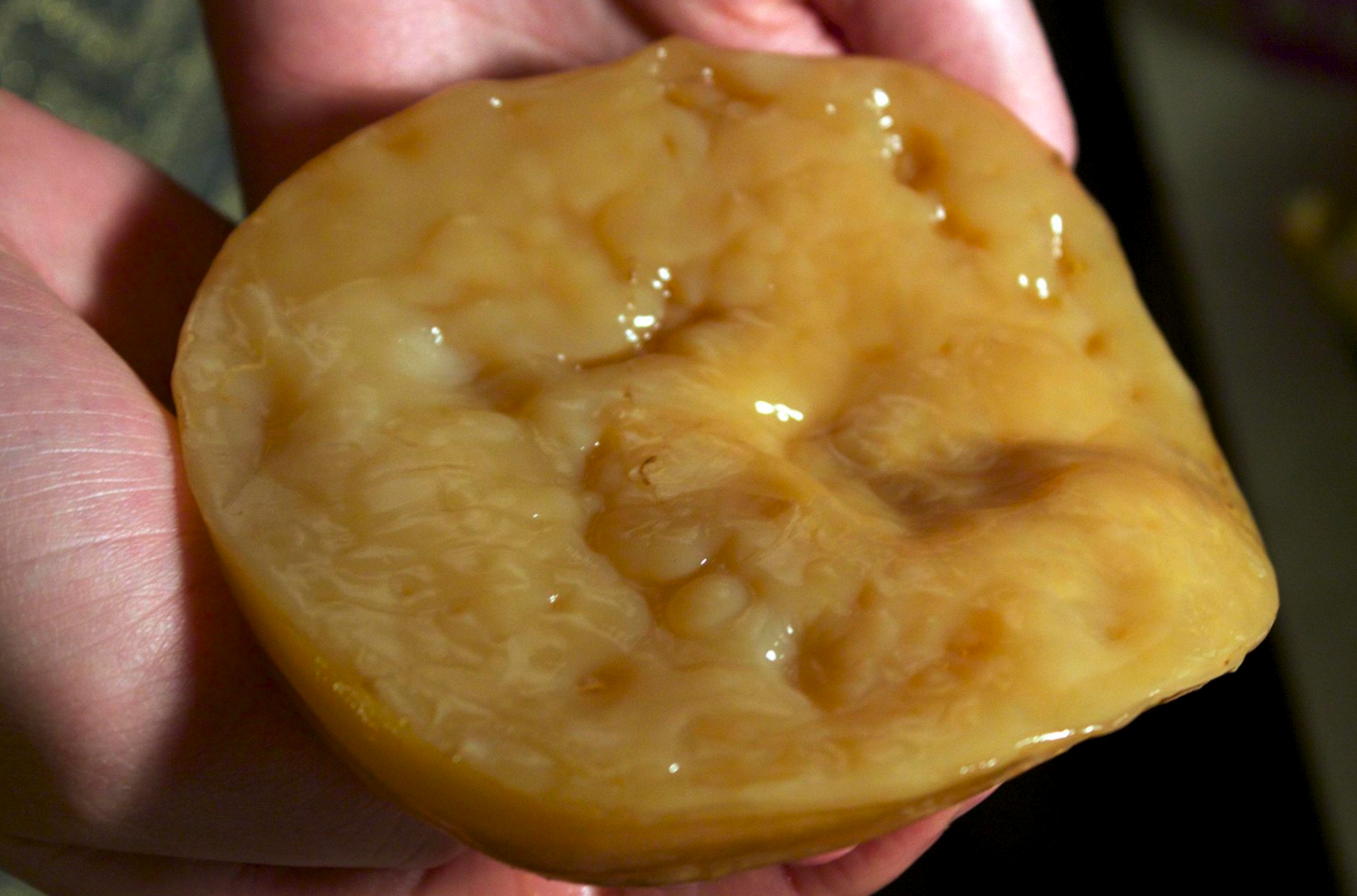 SCOBY DISC
This concoction is said to have originated in Manchuria around 225 BC, and used predominantly in the areas of Northern China, Russia and Eastern Europe, The brew is reported to have been imported to Japan by the Physician Kombu in 414 AD, and maybe that's where the term Kombucha may have been coined. Kombu the name of the Physician and importer and Cha a word used for tea in a few dominant Asian Languages.
Kombucha is reported to benefit your health in a variety of ways. When the fermentation process has been completed the Kombucha will contain vinegar, B-Vitamins, enzymes, probiotics, and a concentration of Acetic, Gluconic,and Lactic Acids. These compounds and elements now contained in Kombucha are reported to contribute to these positive health benefits when consumed:
Improved Digestion
Weight Loss
Increased Energy
Cleansing and Detoxification
Immune Support
Reduced Joint Pain
Cancer Prevention
The Nutritional facts per 8 oz serving when Kombucha is brewed with black tea break down like this
Calories 30
Fat 0
Carbohydrates 7g (2%)
Sugar 2g
Protein 0g
Folic Acid 25%
Vitamins B2, B6, B1 20%
Vitamins B3, B12 20%
Bacillus coagulans GBI-30 6086
1 billion organisms
S. Boulardii: 1 billion organisms
EGCG(a powerful antioxidant) 100 mg
Glucuronic Acid 10 mg
L+ Lactic Acid 25 mg
Acetic Acid 30 mg
Gluconic acid is an antioxidant that strengthens the immune system. Probiotics and enzymes promote detoxification. The enzymes promote better food digestion. Students of better health are familiar with the benefits of vitamin B complex, but just in case you don't know consuming vitamin B stimulates the body's metabolic functions, and contributes to a healthy heart, healthy hair, skin and nails.
For those of us living in Party Central Pattaya, the gluconic acid found in Kombucha strengthens liver functions and is a great hangover remedy. After a hard night of boozing it up with your buddies drink a bottle of Kombucha before you go to sleep and delight yourself in a hangover free morning the next day.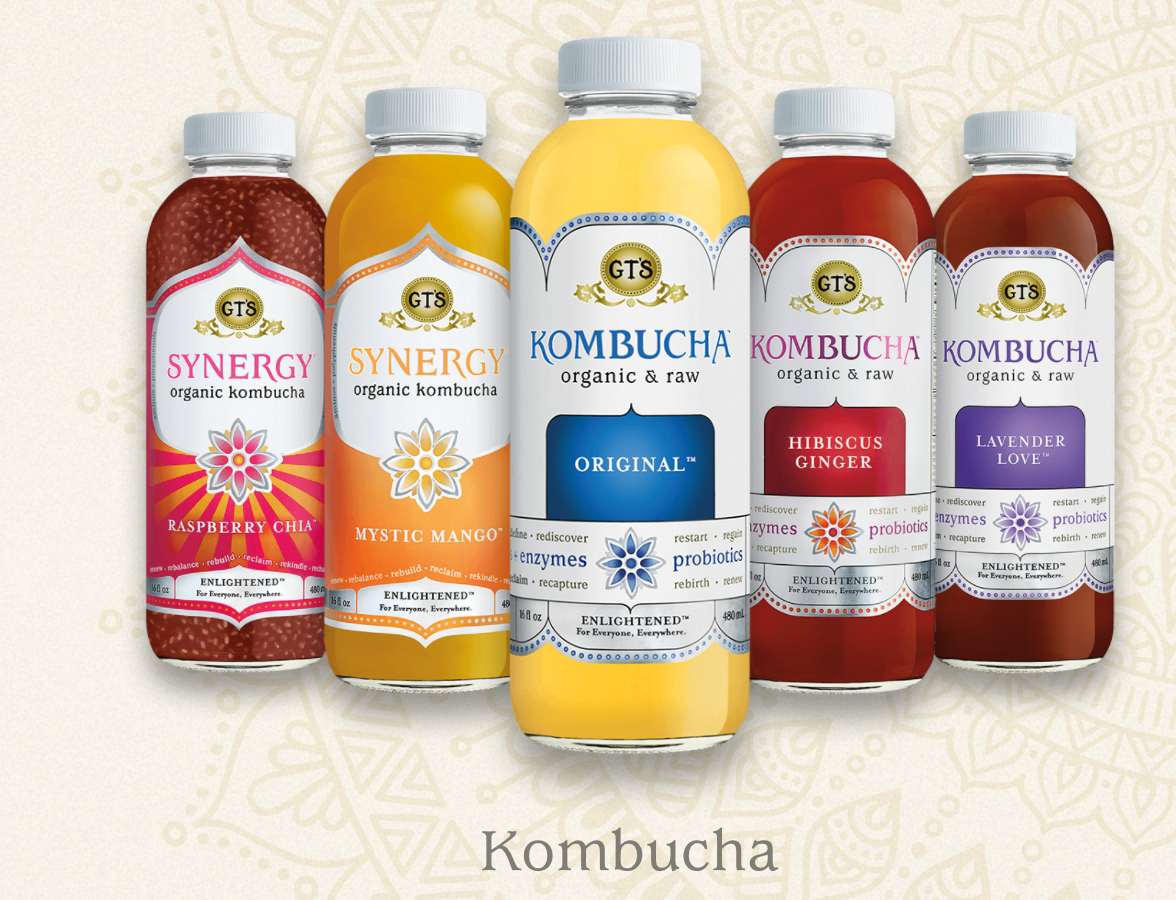 The largest and most well known brand of Kombucha in America is GT's Kombucha. The Founder, GT, is convinced his Mother was cured of cancer from her consumption of Kombucha and has made it his mission to make the drink available to as many souls as he can at $7 US for a 16 oz. bottle, that's slightly less than half a liter for you metric folks, and that's the price when you buy a dozen at a time, it's not cheap by any means.
I won't go out on a limb and say Kombucha cures cancer, but I do agree with the concept that Kombucha brings balance back to the body, therefore enabling the body to fight off disease better.
Now that we've discussed at length how good this stuff is for you how do you get it? I'll say it again the stuff ain't cheap. And once again GT's Synergy Brand is the most popular in the States at about $7 US per 16 oz. bottle. GT's also has the largest market share, $350 million worth of a $400 million dollar valued market. I found a French group, Pronatura, selling 3.38 fluid oz. that's a little more, and I do seriously mean a little more than 2 shots of whiskey to give you a perspective, of Kombucha Press Extract, a more concentrated form, at 858 Baht or €22.50 a bottle. After seeing those prices I soon realized why so many brew it yourself kits were available. We will talk more about that in just a bit.
The American Brand, GT's, currently does not ship to Thailand. I wasn't able to find a wholesaler or distributor in Pattaya of any local brands, but given the popularity of the drink I'm sure it will be available soon. Bangkok has 2 breweries Pure Luck and Le Kombucha. I also found a company that sells a Kombucha brewing system out of Bangkok, Cha Momma.
The Pure Luck Kombucha brand lays claim to being the first Kombucha brewery in Thailand.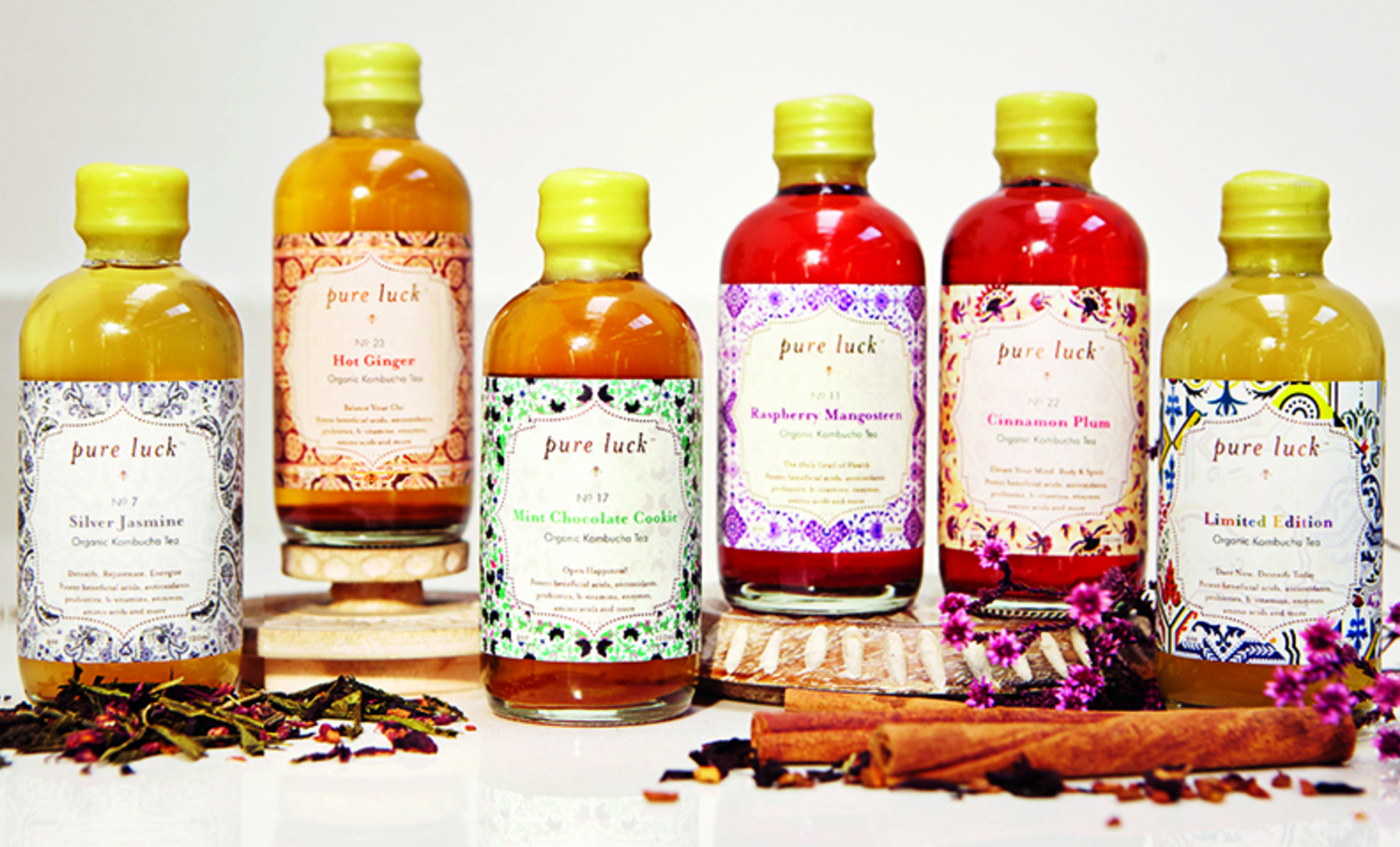 They sell a 4 oz bottle for 110 Baht, that's €2.87 when purchased 12 at one time. Pure Luck offers you a sampling pack of 12 so you can find the flavor you like, and a 30 bottle package at 105 Baht per 4 oz bottle for you to order in bulk, once you know the flavors you like. To have the package delivered is a service offered at a reasonable fee, from Bangkok to Pattaya its 155 Baht for the 12 bottle package the 30 bottle package ships to Pattaya for 330 Baht, the fee will vary according to your location in Thailand. This particular brand has received acclaim in the United States as well for its taste and reported health benefits. Food and Wine has placed Pure Luck in the top 5 of Kombucha drinks to buy. Pure Luck® asked us to describe their product in this way.Pure Luck® is inspired by history, nature and ceremony. They holistically craft & ferment each batch of tea – in a way that connects our ancestral collective stories,  generational and cultivativational energies, into a perfectly balanced, healthy, bio-elixir – created specifically to make you feel happy and keep you healthy. Portioned in a size, that's as powerful, as it is portable. They simply wish to create the highest potency, best tasting, live, energetic beverage there can be.
Each batch of Pure Luck® is brewed by hand from the finest teas and fermented, 120 bottles at a time, in our exclusive – Pure Kombucha™ style. This means it will always be crafted from 100% certified organic ingredients & mountain spring water, fermented in glass and, from craft to bottle, the brew never touches any metal surface. Pure Kombucha™ is always unfiltered, naturally carbonated, naturally caffeinated, non-GMO, gluten free, low sugar & has NO ADDED JUICES or FLAVORS and there's no refrigeration necessary.
They offer the first and only, meticulously designed, concentrated, magical bio-elixir – crafted to deliver the perfect amount of energy rich, probiotic, Kombucha tea in a 4 oz. shot sized serving. One bottle is all you need. Ordering information is available through contacting them directly at their email address info@mypureluck.com , or through Facebook.
Le Kombucha brand is also brewed in Bangkok and will deliver wherever the BTS line has a station.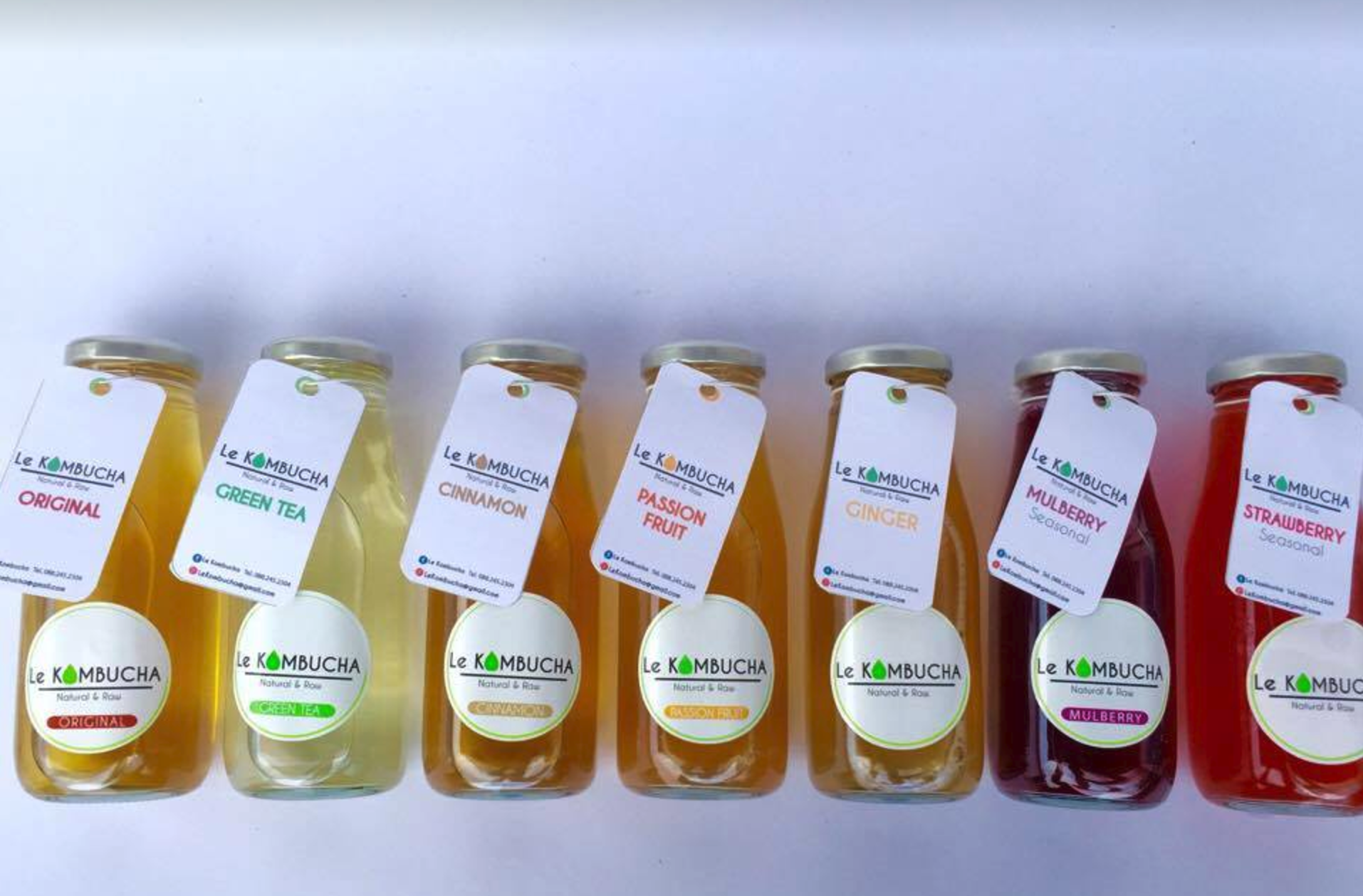 They offer a 250 ml bottle approximately 8 ½ oz. at a price of 80 Baht / €2.10 per bottle. Making Le Kombucha the best priced brand available. They have a wide variety of flavors and can be purchased at the following locations in Bangkok. You can also contact them through Facebook.
Radiance Wholefoods (Sukhumvit 39)
Sunshine Market (Sukhumvit 31)
Sourced Grocer (The Commons on Thonglor 17)
Ariya Organic Cafe (Q. House on Sathorn)
Gourmet Market Row 13 (Siam paragon)
Punsuk Organic Grocery (Ari 1)
Cha Momma is my favorite because they give you the knowhow and the tools to make Kombucha yourself. Our generation has lost so much in the way of making things from scratch and handing down healthy recipes and traditions. it's a breath of fresh air to see young people encouraging these ancient traditions wholeheartedly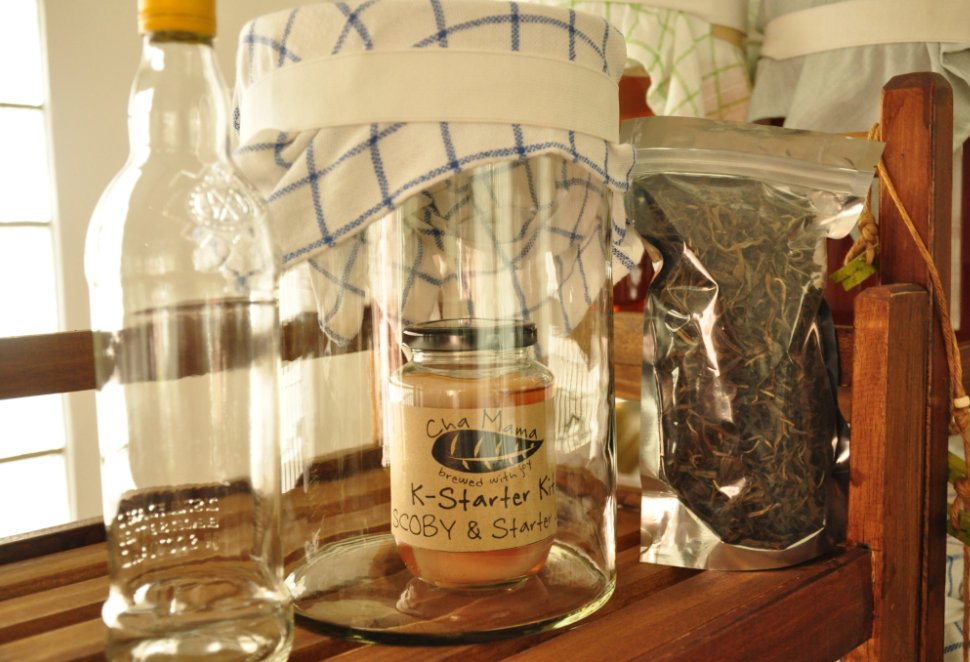 and i'll do my best to help them along as well. Cha Momma offers a starter kit and a deluxe starter kit to brew your own Kombucha, I recommend the deluxe kit for you novices like myself. That kit provides everything you need to create this elixir of life, the name given to this drink by the Chinese. The kit contains a
1 gallon glass jar
100% cotton kombucha jar cover
SCOBY and starter liquid
100 g of raw, organic and unprocessed green tea
1 cup of organic sugar
You can order the kit at
Kombucha Thailand's website
it costs 1,500 Baht and they offer free delivery within Thailand with your purchase. You're Welcome to contact them at info@kombuchathailand.com as well. The recipe for brewing comes with the kit and there are a variety of recipes and brewing techniques available on line.
There are some words of warning in particular to 1st time users regarding the consumption of Kombucha.
Pregnant and nursing mothers or anyone with a medical condition should consult with a doctor before consuming Kombucha. It contains caffeine, sugar, and a very low level of alcohol, less than 1%.
Some individuals have been known to experience bloating from drinking Kombucha. This may occur because of the presence of probiotics and the possibility of changes in gut bacteria. People with digestive disorders, please consider checking with a doctor before drinking Kombucha.
Kombucha, when not brewed properly or when brewed in unsanitary conditions can contain harmful bacteria that can be dangerous if ingested. If you choose to brew your own, over emphasizing sanitary conditions and strict adherence to the proper methods of storage are of extreme importance. Good things that are good for you, and made by you do not contain the preservatives found in many consumer items today. So Kombucha can go bad over time or if it is not stored properly, especially when home brewed.
Do not Prepare Kombucha in ceramic or plastic vessels. The acid within the Kombucha can leach lead from the color of the vessel or the paint on the vessel. We didn't spend all this time finding a great way to be healthier to cause ourselves illness from lack of attention to sound warnings when producing our own Kombucha. So be careful, create your own recipes and hand this healthy activity down through your own families.
I do suggest strongly to purchase already made Kombucha before attempting to brew it yourself. That way you can expose yourself to the wide variety of flavors and give yourself great ideas when you take on the brewing process for yourself. You will also know if you succeeded in making it the right way.
Please follow and like us: